Lithuanian blonde island plan raises eyebrows
A Lithuanian company plans to set up a holiday island in the Maldives run entirely by blondes - the latest project in a growing blonde movement in the Baltics. But how legitimate is this latest sign of Baltic blonde ambition?
What do you call a blonde who runs a business? A dab hand at marketing, if she comes from Lithuania.
Blondes in the Baltics have had enough of the jokes about being dumb. Now they want to show they are smarter than the gags make out, with a growing blonde business empire.
The Lithuanian company Olialia, pronounced "ooh-la-la", is planning a holiday resort in the Maldive islands.
The firm hopes to pull in the tourists by employing only blonde staff, and offering direct flights to the island crewed entirely by blondes, including the pilots.
Olialia is run and staffed by blonde women, and already operates in 75 different business sectors, making products from computer software and food products to pop music.
Racist' idea?
When women with dark hair work here, they are surrounded by all these beautiful blondes, so eventually they end up going blonde tooGiedre Pukiene, Managing director, Olialia
Olialia's blonde managing director, Giedre Pukiene, says she wants to break the stereotype that blonde women are less intelligent.
Our girls are very smart and they have degrees," she says.
"All of them want to do something with their lives. They have lots of business ideas."
The island project was officially unveiled this weekend at a party with a blonde dress code, in a new nightclub in Vilnius opened by Olialia. But the resort, which is meant to be opened in 2015, has been heavily criticised.
When it was announced on the Maldivian news website "Minivan" in September, many readers condemned it as discriminatory by potentially excluding non-white Maldivians.
"This is racist and should not be allowed in the Maldives," wrote one reader identified as Ablo.
Local laws could make things difficult as resorts in the Maldives are required to hire at least 50% local staff.
In Lithuania itself, which is a member of the EU, there is the question about whether stipulating blonde hair as a criterion for a job applicant contravenes EU employment laws. Would older women with grey hair or men be eligible for a job?
'Selling sex'


Giedre Pukiene says her company does not discriminate and welcomes all applicants, no matter what their gender, age, ethnicity or hair colour.
"But we find that when women with dark hair work here, they are surrounded by all these beautiful blondes, so eventually they end up going blonde too," she said.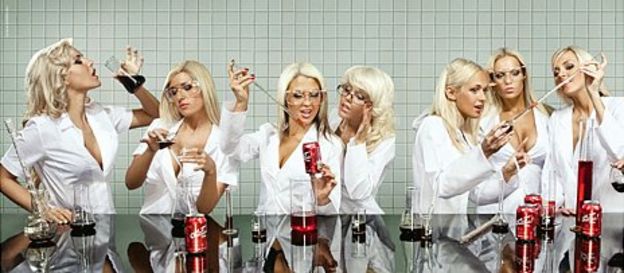 Other critics call the company's entire marketing strategy sexist. They fear that using cliched sexual images of blondes to sell products simply confirms negative stereotypes.
"It's clear they are not selling the idea that blondes are clever," says Latvian journalist Sanita Jemberga, herself brunette.
"They are selling the idea that blondes are sexy, because sex sells. They have found their unique selling point, which is Baltic women and sex."
Stag party culture


All the company's products are advertised using images of sexy blonde women in improbably intellectual situations.
An ad for Olialia's own-brand cola, for example, shows glamorous high-heeled blonde scientists concocting rather unlikely-looking laboratory experiments to make the drink.
Another ad shows a board meeting of blondes, who are applying make-up while discussing corporate strategy.
Whether the PR campaign is offensive or simply cheekily ironic, it does appear to be working.
Olialia says it expects to double its annual net profit to $10m (£6m) this year, and claims that over 80% of Lithuanians recognise the brand.
Olialia's growing business is just one sign of a bizarre blonde movement in the Baltics which describes itself as liberation from stereotypes for blonde women.
In May, a two-day blonde festival was held in the Latvian capital Riga to cheer up a country hit hard by the economic crisis.
The event's organiser, Marike Gederte, who is CEO of a business and president of the Latvian Association of Blondes, told the BBC that the annual festival, which includes parties, a concert and a march of blonde women through Riga, is meant to prove that blondes can be independent and show initiative.
But judging from the over-excited reaction of some male tourists in Riga, female emancipation wasn't necessarily the first thing that sprang to mind.
One young man visiting on a stag weekend was detained by police after drunkenly stripping at a concert of blonde women in the Old Town.
The Baltic blonde movement is certainly attracting attention. But it may also end up undermining the region's attempts to pull in more sedate tourists and shake off its rowdy stag party image.